Al Maaref University Holds its Annual Iftar of 2023
Al Maaref University Holds its Annual Iftar of 2023
Back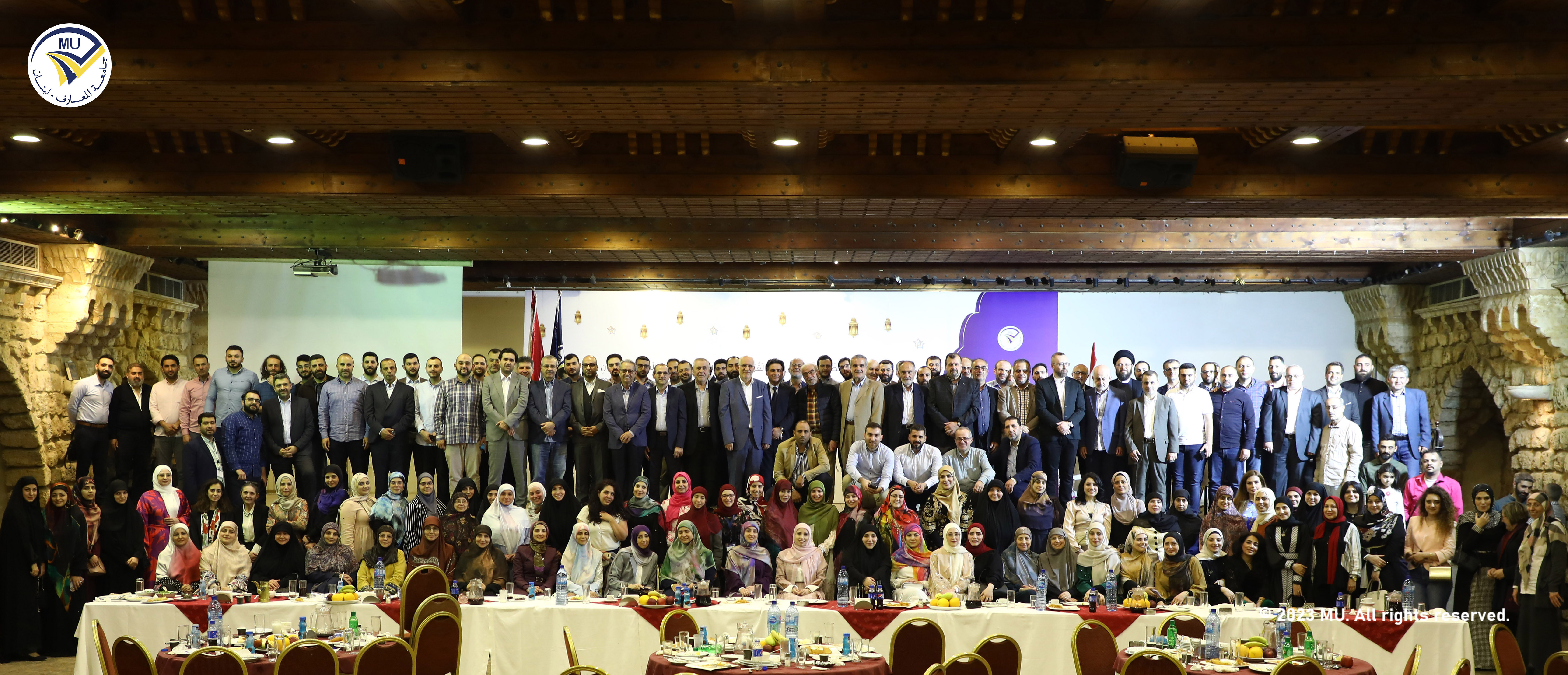 Al Maaref University held its annual Iftar Dinner at Al Saha Heritage Village in Beirut at dusk on Wednesday, April 18, 2023, corresponding to the 27th of Ramadan. The Iftar was attended by the President of the Board of Trustees and its members, the President and the University's Council, and both the academic and administrative teams, as well as, in the presence of the Minister of Public Works and Transport, Dr. Ali Hamie.
At the outset, the President of the University, Dr. Ali Alaeddine greeted the attendees, congratulating them on the holy month of Ramadan, and hailed their good efforts, persistence in giving, pursuing of the path of success and excellence, and continuing to secure the best quality of education, and providing students with hope, support, and care despite all the severe conditions and tremendous challenges."
Dr. Alaeddine pointed out that the university has been granted institutional accreditation in the four majors in the Faculty of Engineering. Moreover, announcing that the university is preparing all needed to start the teaching process in the faculty of Education at the beginning of the academic year 2023-2024, and is "waiting to obtain the official permission to start teaching in the coming few weeks."
The president stressed that the university is highly committed to working scientifically and systematically; pointing out that the results of the five-year strategic plan 2022/2027 showed six strategic priorities: strengthening the distinguished scientific level; consolidating the cultural identity and strengthening the university's pioneering role in culturalization and cultural dialogue; promoting its progress and growth, - investing, developing, and empowering human resources; developing and strengthening the administrative system according to the standards of quality assurance, efficiency, and transparency; in addition to building and advancing a scientific research system, by which investing it in the advancement and empowerment of the society.
In conclusion, Dr. Alaeddine recalled the memory of the Qana massacre on April 18, 1996, and the "criminality and terror of the enemy that usurps the land of Palestine," calling on those present to "contemplate the stage we had reached, as 27 years ago when our enemy, the Zionist's attacks on our people were that simple and easy, but by Allah's grace and the golden equation of the Lebanese army - people-  resistance movement, we have become a strong and capable community in all areas."
Back