MU's First International Conference on Digital Journalism
MU's First International Conference on Digital Journalism
Back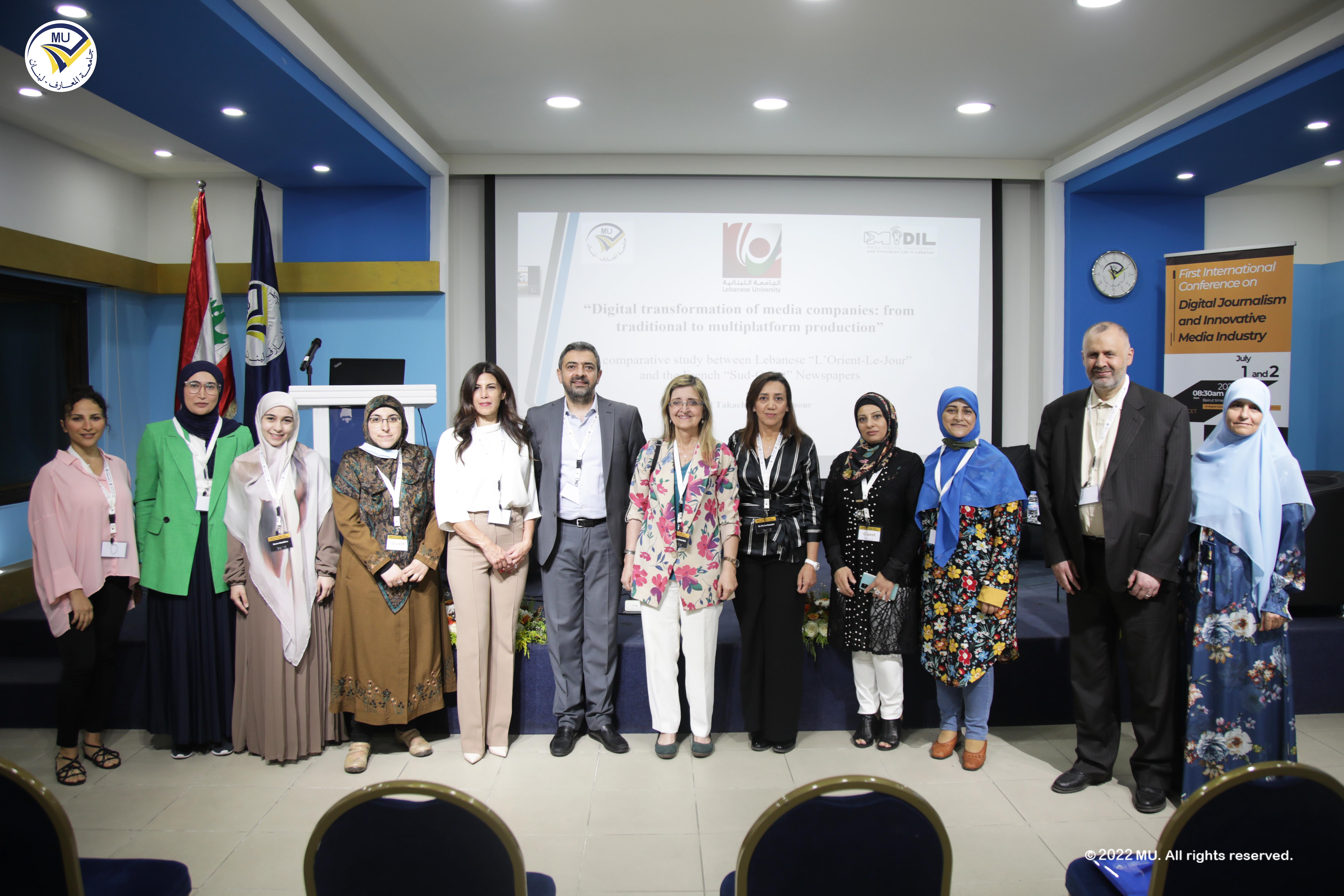 The Faculty of Mass Communication and Fine Arts (MCFA) at Al Maaref University concluded on Saturday, July 2, 2022 its First International Conference on Digital Journalism and Innovative Media Industry, which was organized by the Media Industry, Development and Innovation Lab (MIDIL) over the course of two days, July 1st and 2nd, at the university campus in Beirut.
The first session focused on the Innovative Newsroom, and it was moderated by the Chairperson of Journalism and Digital Media Dr. Hatem El Zein, with the participation of Mrs. Justyna Kurczabinska and Mr. Sebastian Noir from European Broadcasting Union, Dr. Mohammad Fakhreddine, and Mr. Hassan Safieddine.
The second session, however, dealt with the Media and Artificial Intelligence, and it was moderated by MU full-time Instructor in Journalism and Digital Media Department Mrs Rana Aladdine with the participation of Dr. Abdessamad Moutei from ISIC, Morocco, Mr. Ali Sorour from Data Aurora, and Dr. Hussein Hazimeh who is a data science Instructor at Lebanese University and Al Maaref University.
In the third session, the researchers discussed the Innovative Approaches to Study Talk Shows. The session moderated by Rindala Jabbour, the head of the Lebanese audio-visual syndicates with participation of Mr. Hussein Kobeissi, PhD candidate from the University of Sydney and participation of Mrs Chirinne Zebib who is a part-time Instructor at the Faculty of Mass Communication and Fine Arts at Al Maaref University and completing her PhD at the University of Saint Joseph in Lebanon.
The conference, in its fourth session, dealt with "Theorisation in the Digital Age", moderated by Dr. Hussein Hazimeh, with the participation of Dr. Ebrahim Mohseni Ahooei who is researcher at the University of Vienna and Dr. Hatem El Zein.
The fifth session, on the second day of the conference, addressed the Artificial Intelligence and the Media Industry, and was moderated by Professor May Abdallah, with the participation of Dr. Nesrin Mohammed Abdel Aziz from El Shoroq Academy, Egypt, Dr. Lina Ghaly from the Faculty of Information (Branch 1), Lebanese University, and Dr. Fadia Hussein from the Arab Association of Communication Studies.
The sixth session dealt with the Current Innovative Studies in the Era of AI and Digitalisation, and it was moderated by Mr. Ali Srour with participation of MCFA's Dean Dr. Ali El-Takach, Mrs. Farah Nassour from Annahar Newspaper and a master degree graduate in journalism and digital media, Ms. Emna El Mokhtar from Espirit School of Business, Tunisia, Yara and Maya Mahfouz who are El Mokhtar's supervisor.
The seventh session coped with the Current Identity of Journalism and Digital Media Students and Graduates, and it was moderated by the MCFA's Dean Dr. Ali El-Takach, with the participation of Dr. Omid Ali Masoudi from Soore University, Iran, Mrs. Rana Aladdine from Al Maaref University, and Dr. Oleg Dmitriev from the University of HSE, Moscow.
The eighth and final session tackled the issue of disinformation and fact-checking. Mrs. Rana Aladdine moderated it with the participation of Dr. Mustafa Abbas Muhammed Ridha Al-Bayati from Iraq. 
It is worth noting that the conference was conducted in person and via Zoom platform, too. It witnessed a participation of a group of researchers from twelve countries representing eighteen academic, scientific and professional institutions.
In the closing ceremony, the MCFA's Dean Dr Ali El-Takach announced the final collective recommendations and they are as follows,
Firstly, at the Professional Level,
1. For Students
- Pursue constant training to make their knowledge and skills up-to-date.
- Apply new knowledge at work, and become an added value in developing the performance of the institution to make a difference.
2. For Media Professionals
- Stay up to date with technology and keep the skills of its employees up-to-date. 
- Take initiatives in terms of training and development at the institutional level.
3. For Media Institutions,
- Traditional media outlets should make more use of social media platforms to address and engage the youth.
- Calling to Innovate traditional newsrooms in Lebanon in order to adopt the modern digital transformation in many aspects, including the gathering, assessing and presenting of fact-checked news.
- Audio-visual media outlets must take integrative technical development into consideration by providing staff professional development periodically.
- Artificial intelligence may harm or enhance the reputation media institutions. So they must build up reputation and credibility, and humanize the use of artificial intelligence.
- Employ qualified fresh graduates with media outlets in a way that promotes and boosts their work. 
Secondly, at the public level,
1. Adopt the a rationale digital transformation process that in favour of citizens. Therefore, it is necessary to develop digitally all official and private institutions.
Thirdly, at the educational level,
1. Digital media education is of high importance not only for media professionals, but also for citizens. Therefore, it is necessary to introduce a new subject in schools to educate students at an early age on ways to deal with social media news (how to avoid misinformation or disinformation).
2. Take both the academic and the practical track when dealing with students, by urging them to get in touch with the society and its needs and hence to create engaging digital media content.
3. Integrate data science and media studies in the adoption of the artificial intelligence technology as a basis for developing the media in terms of structure and content. In the same time, ethical standards and principles should be considered. Thus, the Conference calls for the development of a guide titled, AI Code of Ethics;
- Encourage more scientific researches and publications, especially on the new media, digital media and artificial intelligence. In this regard, it is necessary to facilitate the researcher's access to  academic journals.
- On the academic level, journalism, communication and media studies' graduate and undergraduate programs shall be developed periodically in a way that does not call for a mere traditional vs. new (digital) media comparison, but rather for an innovative theoretical approach to media industry.
- Update the academic curriculum periodically and to be included the latest innovations mainly in the field of digitalization and AI.
Back