A Quranic seminar on the birth of Imam Hasan Al-Mujtaba (AS)
A Quranic seminar on the birth of Imam Hasan Al-Mujtaba (AS)
Back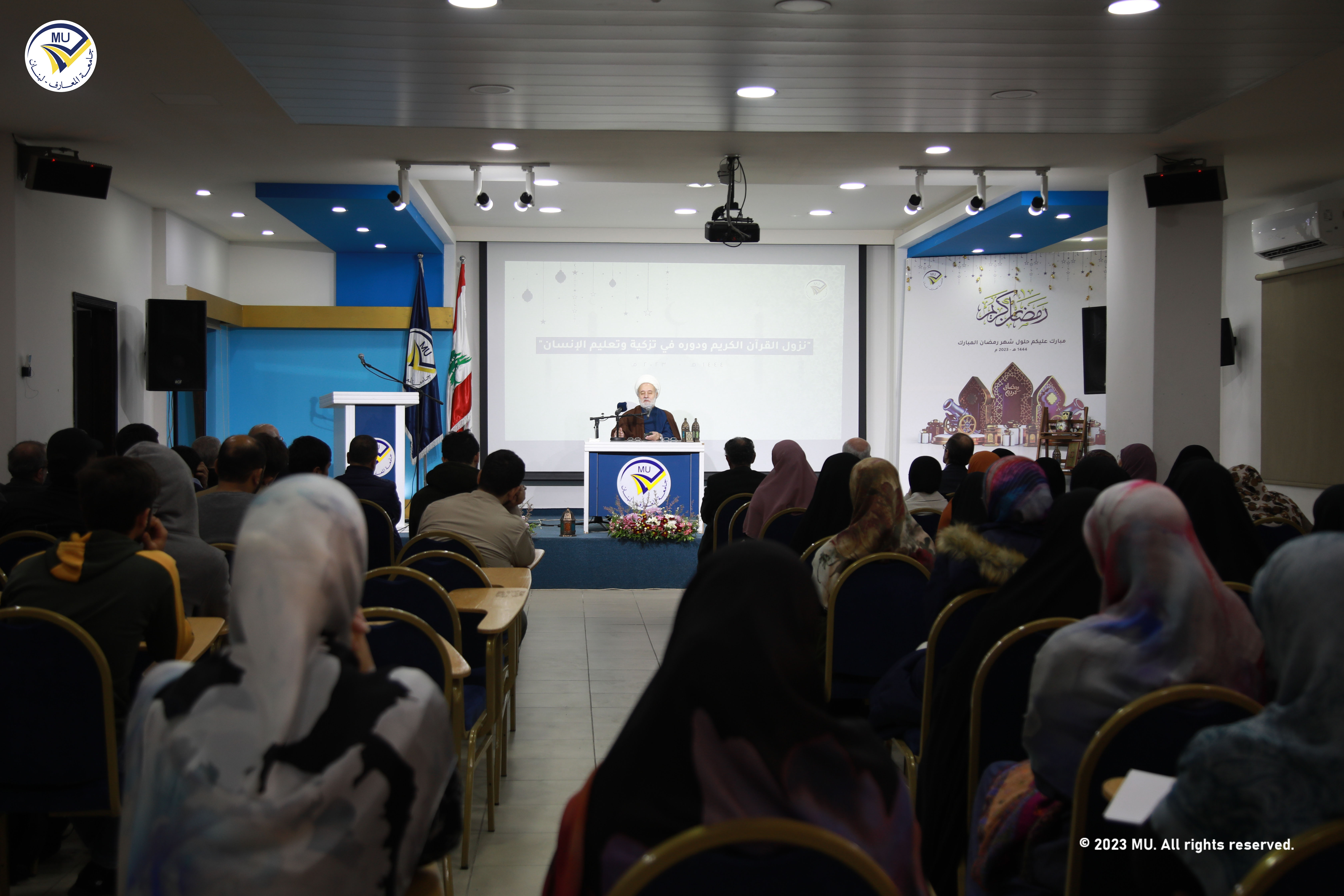 In the atmosphere of the holy month of Ramadan and the birth of Imam Hasan (AS), the Faculty of Religion and Humanities at Al Maaref University held a Quranic seminar entitled "The Descent of the Noble Quran and its Role in Purification and Education of Human Beings", on Thursday, April 6, 2023. The seminar hosted Sheikh Mohammad Kobeissi in the university campus, in the presence of the university president, Dr. Ali Alaeddine, members of the academic and administrative staff, and a large number of students.
The seminar began with a beautiful Quranic recitation by the international reader from the Arab Republic of Egypt, Sheikh Mohammad Farouk Abu Al-Khair. Then, the head of the Quranic Sciences Department at the university, Sheikh Dr. Fadi Nasser, delivered a welcoming speech to the attendees, congratulating them on the blessed month of Ramadan and the birth of Imam Hasan (AS). He also took the opportunity to talk about the ethical qualities of Imam Hasan (AS), which he inherited from his grandfather, the Prophet Muhammad (PBUH).
After that, Sheikh Kobeissi gave his speech in which he addressed various issues related to the Noble Quran, introducing the truth of the divine book and its status, and its role in increasing the cognitive, behavioral and educational aspects, and how to develop the relationship between humans and the Noble Quran, from the relationship of recitation to the relationship of education, purification, and refinement of the soul. He called on the attendees not to abandon the glorious book and pointed out a number of practical situations and concepts that can be linked to Quranic concepts, religious occasions, and how to benefit from them.
Back